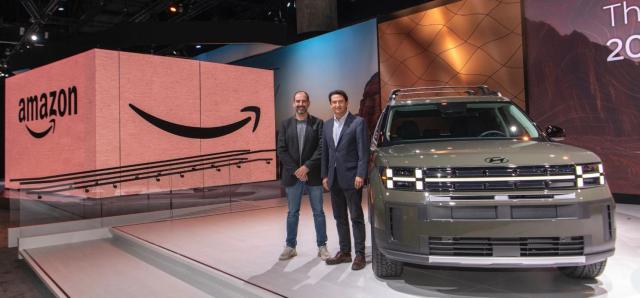 SEOUL -- Hyundai auto group, the world's third-largest carmaker, has partnered with Amazon, the world's top ecommerce service operator, to become the first brand to sell vehicles in Amazon's online store for customers living in the United States.

In the third quarter of 2023, Hyundai sold 200,534 units in the U.S. market, up nine percent compared to the same period in 2022. The carmaker also set new Q3 total and retail sales records for IONIQ 5, an electric sport utility vehicle, and Santa Fe HEV (hybrid electric vehicle), Tucson HEV, and Santa Cruz, a small-crew cabin pickup truck.

Amazon revealed in a statement released through its newsroom website on November 17 that the ecommerce giant will grant access for auto dealers to sell vehicles in Amazon's U.S. store in 2024 and Hyundai will be the first brand available for customers to purchase.

According to the ecommerce giant, customers will be able to search for cars on Amazon and the vehicle will be delivered or can be picked up at a local dealership. "This new shopping experience will create another way for dealers to build awareness of their selection and offer convenience to their customers," Amazon said.

Through the cooperation agreement with Amazon, Hyundai selected Amazon Web Services (AWS) as a preferred cloud provider to accelerate the company's digital transformation. The South Korean carmaker will use AWS' internet of things (IoT), artificial intelligence, computing, storage, database, and analytics capabilities for work processes such as product engineering and customer engagement. AWS can also be used to help Hyundai optimize production and minimize costs, manage security, and connect vehicle development.

Amazon will also collaborate with Hyundai to feature Alexa, the ecommerce giant's AI voice assistant, in Hyundai vehicles in 2025. Customers can engage in hands-free experiences of controlling vehicles' features such as playing music, setting reminders, and checking calendars. Customers can also control their smart home system on the road.

"Together, we will provide customers with more of the buying experiences they want—and support dealers with an efficient and effective selling platform," Marty Mallick, Amazon's vice president for Worldwide Business and Corporate Development, told reporters during a press conference in Los Angeles on November 17.

© Aju Business Daily & www.ajunews.com Copyright: All materials on this site may not be reproduced, distributed, transmitted, displayed, published or broadcast without the authorization from the Aju News Corporation.