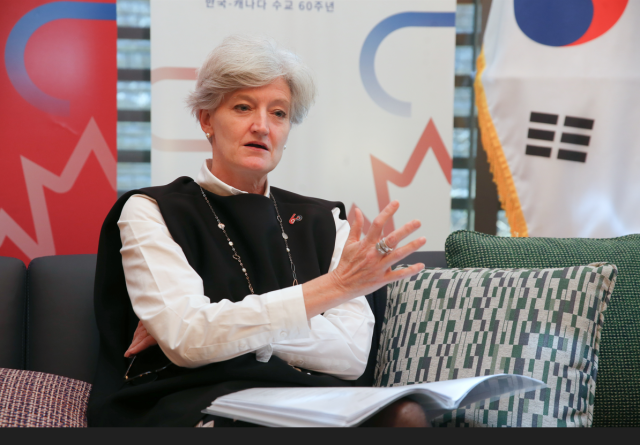 SEOUL -- The bilateral relationship between South Korea and Canada, established in 1963, has deep historical roots dating back to Canada's significant involvement in the Korean War (1950~1953). During the Korean conflict, more than 27,000 Canadian troops were deployed to South Korea. Since then, Canada has maintained a continuous presence in South Korea and is currently striving to enhance companionship by strengthening partnerships in various sectors, including the economy, business, and human rights.

Canadian defense forces engaged in one of South Korea's fiercest battles. Along with Commonwealth forces including Britain, New Zealand, and Australia, Canada's combat unit, repelled Chinese troops in Gapyeong, some 40 kilometers (24.8 miles) northeast of Seoul, in April 1951, preventing their advance towards Seoul. During the three-year war, 516 Canadian soldiers died and the United Nations Memorial Cemetery in the southern port city of Busan bears 379 of them.

The official diplomatic relationship between South Korea and Canada was tied in 1963. Although the war has ended, Canada is still involved in defense cooperation with South Korea. "We have never left the Korean Peninsula," Canadian Ambassador to South Korea Tamara Mawhinney told Aju Korea Daily on November 7. The envoy emphasized Canada's continued commitment to supporting South Korea in maintaining security. According to Mawhinney, a Canadian national defense official is scheduled to visit Seoul in November 2023 to participate in discussions and upgrade cooperation on security matters with members of the United Nations Command.

Beyond the security cooperation, the veteran diplomat aims to enhance friendship with South Korea in other industries. Data released by the Korea International Trade Association (KITA) showed that South Korea's volume of trade with Canada reached $16.3 billion in 2022, up 25.1 percent from a year ago. South Korea's main export product was passenger cars, accounting for 42 percent of the total export. Other primary export items include car parts and telephones. South Korea's main import items were bituminous coal and iron ore.

The Canadian ambassador thinks the renewable energy sector is a promising collaboration field for the two countries. "Clean energy is a key sector for both Canada and Korea. We share our commitment to work together to achieve our climate change goals, the net-zero emissions, by 2050," Mawhinney pointed out, highlighting SK ecoplant, a South Korean energy solution provider involved in a project to build wind power facilities in eastern Canada.

In May 2023, SK ecoplant joined "Nujio'qonik," a wind power project led by Canadian clean energy provider World Energy GH2. Along with World Energy GH2, SK ecoplant plans to generate carbon-free green hydrogen by breaking down water with electricity produced by wind generators and deliver it to other continents including Europe after converting it to green ammonia. The production of green hydrogen will be completed by 2025 and green ammonia by 2026. The consortium led by World Energy GH2 has secured a 1,077.91 square-kilometer-wide land in Canada for the project.

"We also want to transform the automotive sector into something greener, and for that we need to be able to make electric vehicles," said Mawhinney. "Korea has a lot of know-how on technology and we have the critical minerals and other energy sources." She mentioned POSCO Chemical, a unit of South Korea's top steel group POSCO, has constructed a joint venture plant with General Motors (GM) in Quebec to produce high-nickel cathode active materials. High-nickel cathode active materials produced at the Quebec site will be supplied to Ultium Cells, a battery joint venture between GM and its South Korean partner, LG Energy Solution.

Canada is also ready to raise awareness about North Korean human rights. During a summit meeting with South Korean President Yoon Suk-yeol in May 2023, Canadian Prime Minister Justin Trudeau agreed to cooperate for the improvement of human rights in North Korea. "We're really happy to be able to cooperate with South Korea for human rights issues," Mawhinney expressed her joy. The envoy is also interested in improving South Korean LGBT communities' human rights as promoting diversity has always been Canada's important part of diplomacy.

The ambassador said more Canadians are coming to South Korea to search for jobs in different fields. Thanks to the expansion of an annual quota for the working holiday program, more young people can visit each other's country and explore culture and gain work experience at the same time.

The exchange program was created to encourage the nations' young people to engage in employment activities in each country while learning each other's language and culture. During the summit in May, the two countries' leaders agreed to expand the employment program's age limit from the current 18~30 to 18~35. The limit on working hours will also be increased from 25 hours per week to 40 hours.

If possible, the ambassador said she would host a cultural event where K-pop artists could collaborate with Canadian singers such as the Weekend. Earlier this year, the embassy sponsored an art exhibition where 32 Canadian Inuit artists showcased their artworks at an art museum in Gwangju, a city some 270 kilometers (167 miles) south of Seoul. The embassy is currently hosting a film festival in Seoul to celebrate the 60th anniversary of the establishment of diplomatic relations.

© Aju Business Daily & www.ajunews.com Copyright: All materials on this site may not be reproduced, distributed, transmitted, displayed, published or broadcast without the authorization from the Aju News Corporation.