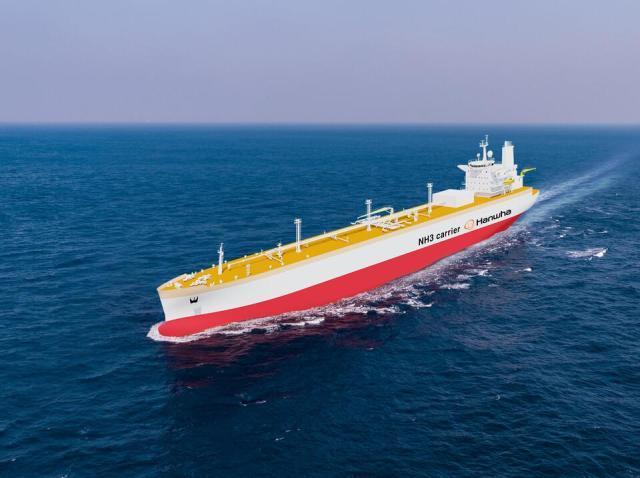 SEOUL -- Hanwha Ocean, a major South Korean shipbuilder formerly known as Daewoo Shipbuilding & Marine Engineering, has grabbed a smart ammonia carrier contract worth $502 million from Naftomar Shipping and Trading, a Greece-based maritime logistics company that specializes in the transport of liquefied petroleum gas and ammonia across the globe.

Naftomar Shipping and Trading focuses on strengthening its foothold in the energy transition and zero-carbon energy businesses in the global market. To fulfill the company's goals, the Greek logistics firm seeks to expand its fleet of carriers for liquefied petroleum gas (LPG) and ammonia which can be used as a clean fuel source or base material for hydrogen fuel.

Hanwha Ocean said that the company won a 656.2 billion contract to deliver four very large ammonia carriers (VLACs) with an ammonia capacity of 93,000 square meters to Naftomar Shipping and Trading by the first half of 2027. The ships, which are the largest of their kind, will be constructed at a shipyard in Geoje Island some 320 kilometers (198 miles) southeast of Seoul.

According to the shipbuilder, the VLAC will feature various eco-friendly technologies such as the shaft generator motor (SGM), a motor connected to the propulsion shaft of the ship to generate electricity and save fuel, and Hanwha SmartShip Solution & Service (HS4), Hanwha Ocean's smartship platform. The shipbuilder said that the VLAC can later be converted into ammonia-powered vessels.

"Through this contract, our eco-friendly vessel technology capabilities were acknowledged again. We will construct the best quality vessel that could lead the environmentally friendly and digital industries," a Hanwha Ocean official said in a statement on November 14.

© Aju Business Daily & www.ajunews.com Copyright: All materials on this site may not be reproduced, distributed, transmitted, displayed, published or broadcast without the authorization from the Aju News Corporation.