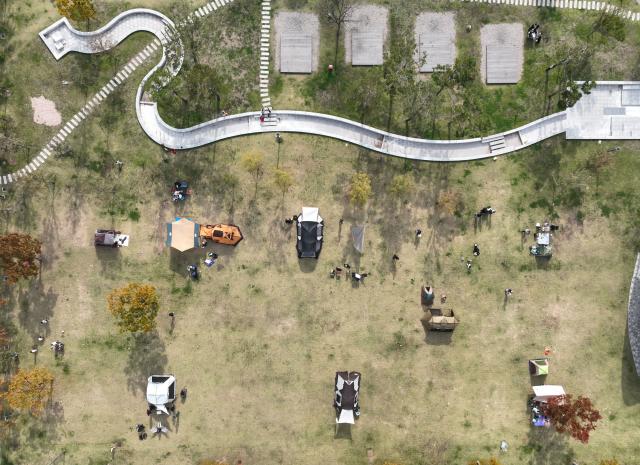 SEOUL -- The total number of camping sites in South Korea has reached a record high of some 3,600 in the third quarter of 2023, thanks to the increased population of campers who became attracted to the outdoor hobby during the COVID-19 pandemic.

When the first wave of the coronavirus pandemic hit South Korea in early 2020, the country rolled out strict quarantine guidelines that virtually prohibited groups of more than four people from gathering in indoor environments. Many people chose to stay at home and avoid crowded places while other people sought to go camping in national parks and private camping sites where quarantine restrictions were less tight.

According to data released by the Korea Tourism Association (KTA), an association of private tourism business operators, there were 6,591 private and government-operated camping sites across South Korea as of September 2023. The number increased by 1,234 from 2019's 2,357, just before the pandemic hit the country.

Gyeonggi Province, which surrounds Seoul and its satellite cities, had the largest number of 835 camping sites while Gangwon Province, an eastern province famous for its mountains and the East Coast, has 719 sites. Many camping sites in South Korea are operated as a hybrid of ordinary sites and auto-camping sites where campers can use their caravans, camper trailers, or camping vans. The ground is normally decked with wood so that campers would not have to worry about wet mud when it rains.

Data released by the interior ministry in May 2023 showed that in 2021, there were more than five million South Koreans whose hobby is camping. According to the Korea Tourism Organization, South Korea's camping market is predicted to stand at about 6.3 trillion won ($4.7 billion) in 2022.

While a small number of people enjoy backpacking with minimalized gear including a tent, cooking utensils, and a sleeping bag, the majority of people like to move around fully packed with a tent, table and chairs, stove, lights, and other camping gear.

© Aju Business Daily & www.ajunews.com Copyright: All materials on this site may not be reproduced, distributed, transmitted, displayed, published or broadcast without the authorization from the Aju News Corporation.