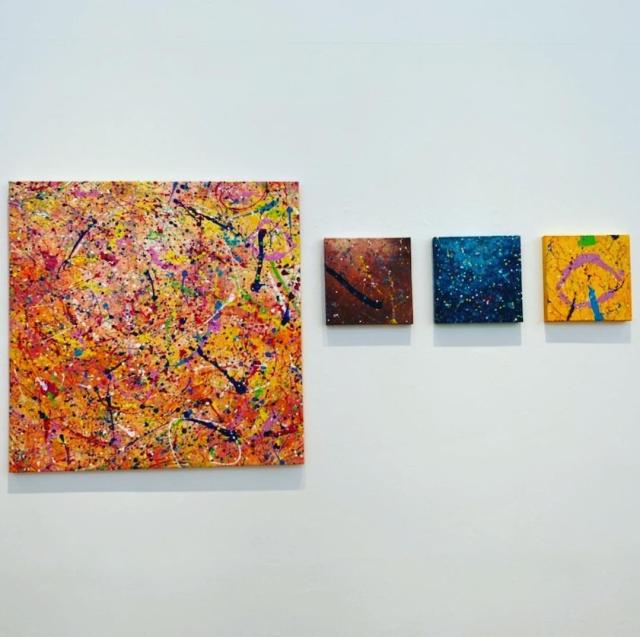 SEOUL -- Sandra Rigo, a Brazilian artist specializing in acrylic painting, has showcased her artwork inspired by rapper Psy's global hit song "Gangnam Style." Using only her hands and eschewing the use of brushes or other traditional painting tools, the painter created a captivating piece displayed at an exhibition in Seoul designed to foster cultural ties between South Korea and Brazil.

Gangnam Style is a fast-paced dance song that became a worldwide phenomenon after its release in July 2012. As of November 10, 2023, the music video for the hit song garnered over 4.9 billion views on YouTube. Psy gained recognition for his trademark horse-riding dance, a distinctive feature of the song.

The Brazilian Embassy in Seoul exhibited "SUMMER-Korea," Rigo's paint created after taking inspiration from Gangnam Style on November 10. "Gangnam Style is the first Korean song I heard while living in Brazil. As the melody and lyrics convey a lot of energy, I chose it to represent the essence of summer," said the veteran painter. Inside the embassy building, a total of 32 artworks capturing the four seasons of Brazil and Korea were displayed. Visitors could listen to the songs that inspired the artists by scanning the QR codes next the artworks.

Each artwork was created without using a brush, drawing inspiration from songs in Brazil or South Korea. During the event, the Brazilian artist further enthralled visitors by spontaneously painting after listening to "Novo Tempo," a song by Brazilian musician Ivan Lins.

The embassy also presented Rigo's work inspired by "Arirang," a folk song regarded as Korea's unofficial national anthem. Arirang is a song that pulls at many Koreans' heartstrings. The traditional Korean song with poetic lyrics is frequently sung by Koreans to deliver sad feelings of separation from families or loved ones. In 2012, Arirang was listed in UNESCO's Intangible Cultural Heritage of Humanity.

"We are hosting this event to celebrate the 64th anniversary between the two nations," Brazilian Ambassador to South Korea Marcia Donner Abreu told Aju Korea Daily. Brazil is the first Latin American nation to establish diplomatic ties with South Korea in 1959. In 2022, South Korea ranked as Brazil's 11th largest trade partner, with the trade volume reaching $11.7 billion, a 31 percent increase from 2018.

Rigo has worked as a painter for about 12 years and she is currently residing in South Korea's central city of Daejeon. Her son, attending the Korea Advanced Institute of Science & Technology (KAIST) in the central city, is married to a South Korean national.

© Aju Business Daily & www.ajunews.com Copyright: All materials on this site may not be reproduced, distributed, transmitted, displayed, published or broadcast without the authorization from the Aju News Corporation.