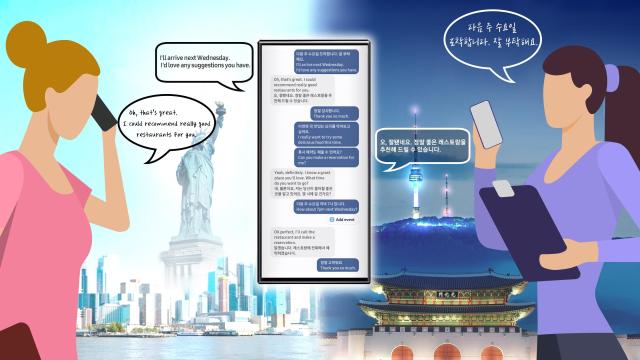 SEOUL -- Samsung Electronics has revealed its plan to adopt a real-time interpretation service for Galaxy phone users to accurately communicate while on the phone. Without installing an application, users can engage in a verbal conversation and view the text visually on their smartphone screen.

The interpretation service will be incorporated into the tech giant's next-generation artificial intelligence (AI) model which offers generative AI functions within the device. Generative AI is a type of AI that can produce new content, such as text, images, or other data, based on patterns and examples it has learned from existing data. Samsung's on-device AI model will process and compute information locally within the device, without relying on external cloud resources.

Samsung said on November 9 that the AI model called "Galaxy AI" will be released in early 2024. When a smartphone user speaks in their native language during a call, the Galaxy AI function will interpret the language into the target language in real-time.

"Mobile technology has an incredible power to enable connection, productivity, creativity, and more for people around the world, but until now, we haven't seen mobile AI ignite that in truly meaningful ways," Samsung's mobile experience division head Choi Won-joon said in a statement. "Galaxy AI is our most comprehensive intelligence offering to date, and it will change how we think about our phones forever."

A report released in August 2023 showed that Generative AI has the potential to unlock South Korea's productive capacity by up to $476.6 million, equivalent to 29 percent of the nation's gross domestic product in 2022. The study estimated that the financial and insurance sector would be the most affected (10.1 percent), followed by the professional, scientific, and technology-related service industries (9.6 percent). The joint study was conducted by the Korean Chamber of Commerce and Industry, American tech giant Microsoft, and Access Partnership, a London-based technology-focused public policy consultancy.

© Aju Business Daily & www.ajunews.com Copyright: All materials on this site may not be reproduced, distributed, transmitted, displayed, published or broadcast without the authorization from the Aju News Corporation.