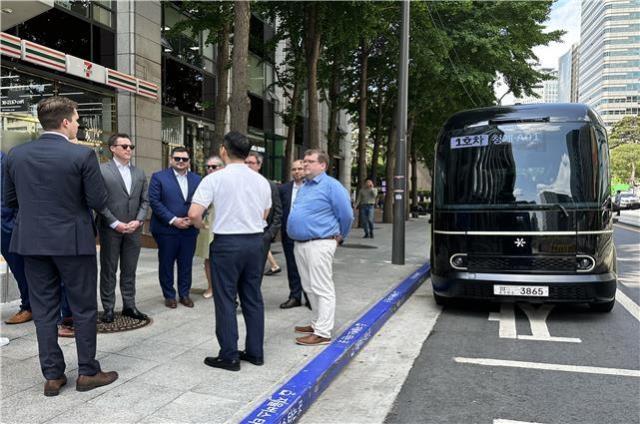 SEOUL -- Seoul's self-driving bus route that operates near Cheonggyecheon, a stream that flows through the heart of the capital city will be extended to a Gwangjang Market, a famous traditional Korean market with various types of street food. The traditional market is known for Tteokbokki, a menu of finger-sized rice cakes simmered in fiery-red spicy chili sauce, and Korean-style mung bean pancake called Bindaetteok.

Since November 2022, a total of three autonomous buses carried passengers on a 3.2-kilometer-(1.9-mile)-route from Seoul's iconic square Cheonggye Plaza and a shopping area Sewoon Arcade, and back. The capital city said the buses carried a total of 4,027 passengers during the one-year period, traveling the route 3,849 times.

According to Seoul, the city has not run self-driving buses at Gwangjang Market as the area is filled with motorcycles and jaywalkers. The market has some 2,000 stores selling street food, traditional Korean attire Hanbok, and other accessories.

Seoul said in a statement on November 6 that the city will extend its self-driving bus route to 4.8 kilometers to connect Gwangjang Market. The route will be expanded after a safety verification this month. "We will continue to expand autonomous buses using self-driving data accumulated so far," Seoul's urban transportation bureau head Yoon Jong-jang said in a statement on November 6.

The city will temporarily suspend the operation of self-driving electric buses around the Blue House, the former presidential compound for inspection purposes. The electric buses will resume operation in March 2023. The autonomous buses on both the Cheonggyecheon and Blue House routes, which are currently operating for free, will transition to paid transportation services.

South Korea's capital city has unveiled its scheme to adopt more than 300 self-driving vehicles and related services by 2026. In February 2022, Seoul commercialized an autonomous vehicle-hailing service in its western district by deploying four self-driving vehicles.

© Aju Business Daily & www.ajunews.com Copyright: All materials on this site may not be reproduced, distributed, transmitted, displayed, published or broadcast without the authorization from the Aju News Corporation.