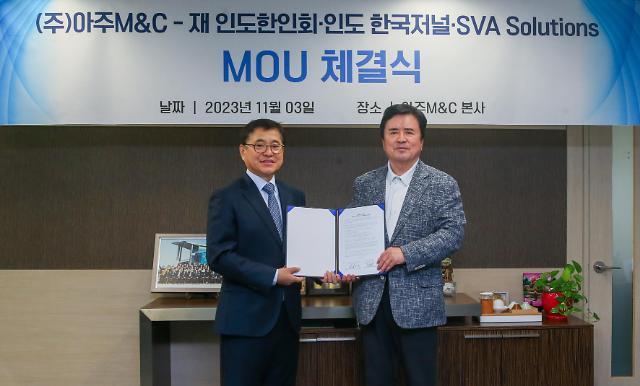 SEOUL -- Aju M&C, the holding company of Aju Business Daily, has partnered with the Korean Association of India to promote South Korea's cooperation with India in various domains, including business and culture. The project also involves SVA Solutions, an Indian firm specializing in consulting services for South Korean businesses operating in India, and a Korean language media outlet based in India.

Aju Business Daily said its holding company signed an agreement with these three organizations on November 3. The alliance aims to support South Korean companies' expansion into India and vice versa. Aju News will also collaborate with its partners to host investment and business-related events, and enhance cultural exchanges between the two nations.
The Korean Association in India will utilize its local network to discover and connect promising companies from each country. The Korean Journal in India, a Korean online newspaper, will provide valuable information for South Korean readers such as India's economy and partnership opportunities with Indian firms.

SVA Solutions will facilitate the transfer of Indian human resources to South Korea and guide South Korean companies entering India. The company will also be involved in construction projects in India. "Through this agreement, we will assist domestic companies in entering India and contribute to the expansion of economic cooperation between the two nations," Aju Business Daily Chairman Kwak Young-gil said in a statement.

"We will further expand exchanges between the two countries and strive to promote friendly relations between the people of the two countries," said Kang Ho-bong, the head of the Korean Association and representative of the Indian side.

According to data released by the Ministry of Trade, Industry and Energy showed that South Korea's exports to India reached $18.8 billion in 2022, up 21 from a year ago. South Korea's imports also rose 10.5 percent year-on-year to $8.9 billion from $2.6 billion. South Korea's export products include semiconductors and steel plates, while the main import items are petroleum products and aluminum. ​

© Aju Business Daily & www.ajunews.com Copyright: All materials on this site may not be reproduced, distributed, transmitted, displayed, published or broadcast without the authorization from the Aju News Corporation.