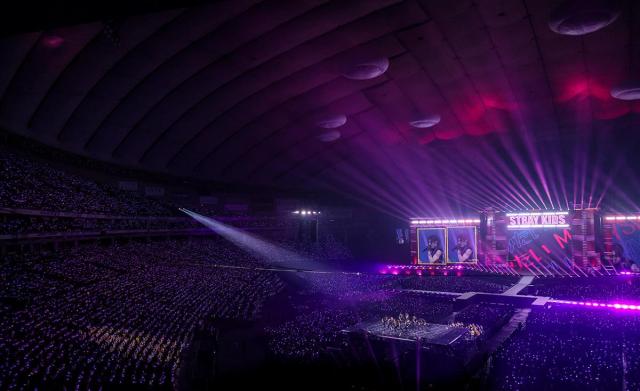 SEOUL -- Boy band Stray Kids has completed its domed stadium tour that started in August. The group attracted more than 340,000 fans through eight concerts in four cities in Japan including Tokyo, Osaka, and Nagoya. The eight-member band also performed at Gocheok Sky Dome, an iconic domed facility in the southwestern part of Seoul.

Stray Kids was listed as one of the next-generation leaders in 2023 by Time magazine. The band received immense attention before its official debut as its members were the final survivors of "Stray Kids," a survival audition show aired through TV music channel Mnet in 2017. It is the first boy band to be produced by Park Jin-young, the head of JYP, four years after GOT7, a seven-member dance group that debuted in 2014. In July 2023, the group headlined Lollapalooza Paris, a music event held in France.

JYP Entertainment said the group wrapped up the "Stray Kids 5-STAR Dome Tour 2023" with its last concert at Tokyo Dome held on October 28 and 29. About 100,000 fans have attended the two-day concert. The domed facility in the capital city is regarded as the "dream stage" among Japanese artists. Before the Tokyo concert, Stray Kids performed at other domed stadiums in Fukuoka, Nagoya, Osaka, and Seoul.

The Seoul concert took place at Gocheok Sky Dome on October 21 and 22. The domed facility in South Korea has a total capacity of 16,744 people. JYP has not disclosed the exact number of the audience.

The band is set to release a new mini album titled "Rock-STAR" on November 10. The group previously topped the Billboard 200 chart in 2022 with "Oddinary" and "Maxident." In 2022, Maxident was one of the best-selling K-pop albums, exceeding 3 million copies.

© Aju Business Daily & www.ajunews.com Copyright: All materials on this site may not be reproduced, distributed, transmitted, displayed, published or broadcast without the authorization from the Aju News Corporation.