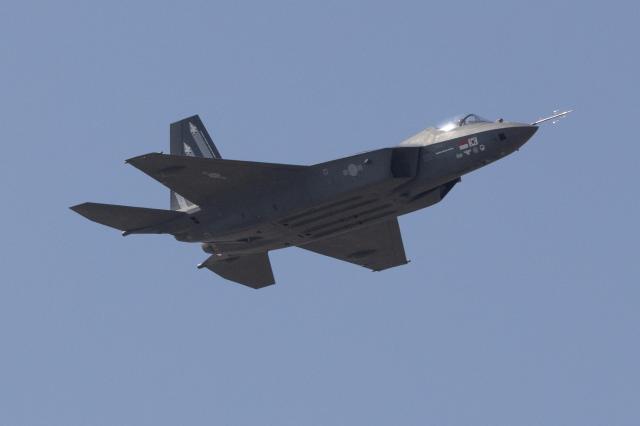 SEOUL -- LIG Nex1, a defense contractor in South Korea, has partnered with German weapon manufacturer Diehl Defence to establish production and maintenance infrastructure for "IRIS-T," an air-to-air missile made by the German arms maker, in South Korea. The short-range missile is set to be integrated with South Korea's homemade fighter jet KF-21.

Diehl Defence led the IRIS-T development project which involves members of the North Atlantic Treaty Organization (NATO). The missile's maximum speed is Mach 3 (3,580 kilometers per hour). The weapon equipped with an infrared imaging seeker can detect enemy aircraft at significantly greater distances than the conventional AIM-9L Sidewinder. Using its solid propellant motor and thrust-vector control, IRIS-T is capable of attacking targets in any direction including its enemy flying behind the aircraft.

LIG Nex1 said the company will work with Diehl Defence for the production and maintenance of the IRIS-T system in South Korea. The agreement was made on October 18 during South Korea's major defense exhibition "ADEX." The six-day aerospace and defense exhibition, attended by 550 companies from 35 countries, started on October 17 in Seoul's satellite city of Seongnam.

Prior to the agreement, IRIS-T was selected for KF-21, a fighter jet made by Korea Aerospace Industries (KAI), the sole aircraft maker in South Korea. The homemade fighter jet was created to replace South Korea's aging fleet of U.S.-made F-4 and F-5 fighters. According to specifications outlined by KAI, the fighter's maximum speed is Mach 1.81 (2,234 kilometers per hour) with its range standing at 2,900 kilometers. The fighter jet was showcased to the public for the first time on October 16 during the media event for ADEX.

"We will try our best to create synergy based on the two companies' technology and experience that place importance on research and development," LIG Nex1 CEO Kim Ji-chan said in a statement. Beyond the domestic market, the two sides aim to set up IRIS-T missile's production and maintenance infrastructure in other Asian markets.

© Aju Business Daily & www.ajunews.com Copyright: All materials on this site may not be reproduced, distributed, transmitted, displayed, published or broadcast without the authorization from the Aju News Corporation.