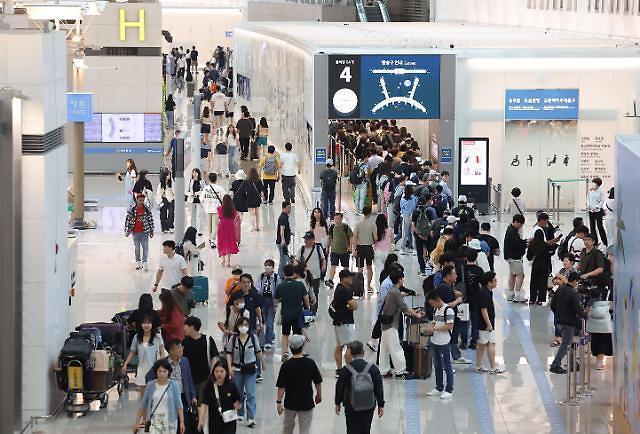 SEOUL -- To meet growing demands for international travel after the COVID-19 pandemic, Korean Air, South Korea's main flag carrier, will expand passenger capacity for routes to Japan, China, and the United States. The airliner will also open new routes to Viet Nam as well as revive airways that were suspended due to the pandemic.

The winter season designated by the International Air Transport Association (IATA) starts on the last Sunday of October and ends on the last Saturday in March every year. According to Korean Air, the airliner's passenger capacity rate for September 2023 stood at 85 percent of the pre-COVID-19 capacity. The air carrier plans to increase passenger route supply for the upcoming winter season to recover to more than 90 percent of the pre-COVID-19 level.

Korean Air said on October 5 that the company will introduce regular flights from Incheon to Phu Quoc, Viet Nam starting November 26 to meet growing domestic demands for international travel. The resort area is known as the "Pearl of Viet Nam" due to its beautiful landscapes. Korean Air flights will leave the Incheon International Airport, South Korea's main gateway, seven times a week.

For travelers who wish to visit small and medium cities that are yet to become extremely popular among international tourists, Korean Air will resume routes to three small cities in Japan and three cities in China. Routes to those cities were suspended three years and seven months ago when countries shut down their borders to prevent the spread of the infectious disease.

After the country completely reopened its borders in early 2023, the demand for overseas travel skyrocketed. About 30 percent of travelers who left South Korea to foreign countries in the first half of 2023 traveled to Japan. China, which used to be one of South Koreans' favorite getaway spots, attracted about six percent of the total outbound travelers.

Japan became a popular tourist spot for South Koreans after all coronavirus-related travel restrictions were lifted this year. Japan's geographical distance from South Korea allows S. Korean travelers to move to its neighboring country within a few hours. In the first quarter of 2019, a year before the COVID-19 pandemic, a total of 11,220,788 people traveled to Japan.

According to the state aviation statistics information service operated by the land ministry, a total of 29,506,492 outbound travelers left South Korea to visit other countries. 8,647,898 people traveled from South Korea to Japan in 1H 2023, accounting for 28.6 percent of the total outbound travelers. An average of 174 people were aboard a single airplane to Japan, filling up to about 90 percent of the seats.

The low exchange rate of the Japanese yen has made traveling to Japan more affordable than visiting certain popular domestic tourist destinations such as the southern resort island of Jeju for the southern port city of Busan. The Japanese currency almost reached its lowest level in eight years against the South Korean won, being quoted at 9.12 per won on July 12. This favorable exchange rate has led to increased interest in traveling to Japan among South Korean tourists.

© Aju Business Daily & www.ajunews.com Copyright: All materials on this site may not be reproduced, distributed, transmitted, displayed, published or broadcast without the authorization from the Aju News Corporation.