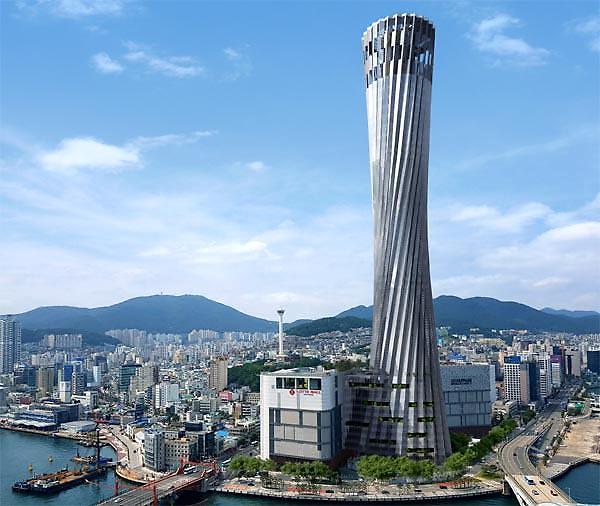 SEOUL -- Lotte Shopping, a retail company affiliated with Lotte Group, will build a 342.5 meter-(1123.6 foot)-tall tower in South Korea's southern port city of Busan. The new skyscraper called the "Busan Lotte Tower" would become the country's third tallest building after Seoul's Lotte World Tower and Haeundae LCT The Sharp, a residential and commercial complex in Busan. Through the new tower, the retail company aims to attract more than one million tourists annually.

Lotte Shopping said the groundbreaking ceremony for the Busan Lotte Tower will take place in southern Busan on August 17. A rooftop observatory will be installed to offer 360-degree views of Busan. To captivate South Korean and foreign tourists, the retail company will also create a shopping complex inside the building.

"We will try our best to make Busan become a world-class tourist city by constructing a landmark that represents the region," Lotte Shopping Vice Chairman Kim Sang-hyun said in a statement on August 16. The company said the tower could become the best landmark in Busan's northern port area if the World Expo is held in the southern port city in 2030.

South Korea is striving to host the World Expo 2030 in Busan. The global economic event, which is held every five years for six months, can play a key role in promoting the nation's artificial intelligence, big data, and information communication technologies to the global market.

The construction of the Lotte World Tower was completed in 2016. The 555-meter-tall tower is located in Seoul's southern district of Jamsil. Haeundae LCT The Sharp consists of a 411-meter-tall tower and two 85-floor residential buildings.

© Aju Business Daily & www.ajunews.com Copyright: All materials on this site may not be reproduced, distributed, transmitted, displayed, published or broadcast without the authorization from the Aju News Corporation.