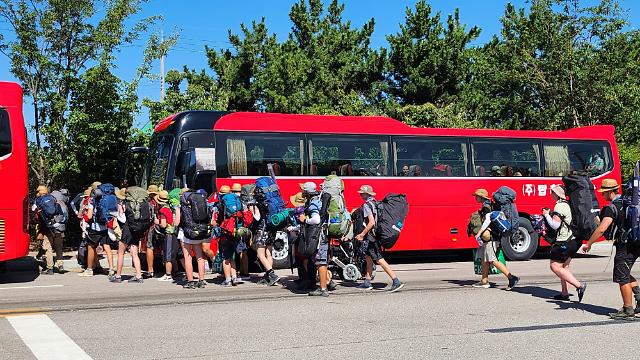 SEOUL -- Some 37,000 Jamboree participants started their migration to eight cities and provinces including Seoul and its surrounding cities in an effort to take shelter from extreme weather including heat waves and a powerful typhoon that is about the hit the southern parts of South Korea on August 10 and move northward.

The evacuation of Scouts and Girl Guides from 156 countries was announced on August 7 after the South Korean government told the World Organization of the Scout Movement (WOSM), the main international Scouting organization, that it is planning to transport participants to various accommodations including university dormitories due to Typhoon Khanun, described as "very strong."

The government's call to withdraw Scouts and Girl Guides from the original campsite came after a barrage of complaints burst out from participants and related personnel, criticizing that the international Scouting event was not prepared properly.

The 25th World Scout Jamboree held in Saemangeum, a reclaimed land area some 200 kilometers (124 miles) south of Seoul, was kicked off on August 1 to host some 43,000 people including Scouts and Girl Guides from 158 countries. However, people participating in the event that was scheduled to close on August 12 faced an unexpected situation where everything -- food, water, electricity, hygiene, and infrastructure such as drainage systems and toilets -- was unprepared.

To make things worse, a series of heat waves struck South Korea, leaving more than 400 participants suffering from heat-related illnesses. Also, Saemangeum's massive camping sites were easily flooded after rain due to a lack of drainage systems, and puddles of water were left on the ground, turning the ground into a gigantic mud pit. Meals that were provided to Scout members were of low quality and some were spoiled due to hot weather.

The South Korean government promised to take proper actions to normalize the global Scouting gathering and promised to hold a K-pop concert to boost the moods of young participants but contingents from Britain and the United States decided to pull out a week early due to extreme weather conditions. Britain has the largest contingent at 4,500 participants while the U.S. has a contingent that consists of about 1,500 people.

According to the government, some 37,000 participants were transported, or are currently being transported to 128 accommodation sites across South Korea on August 8 where they will stay and participate in local cultural and entertainment programs until their departure. The government said that a K-pop concert will be held in Seoul on August 11 to feature NewJeans, one of the most popular K-pop bands in the music scene.

© Aju Business Daily & www.ajunews.com Copyright: All materials on this site may not be reproduced, distributed, transmitted, displayed, published or broadcast without the authorization from the Aju News Corporation.