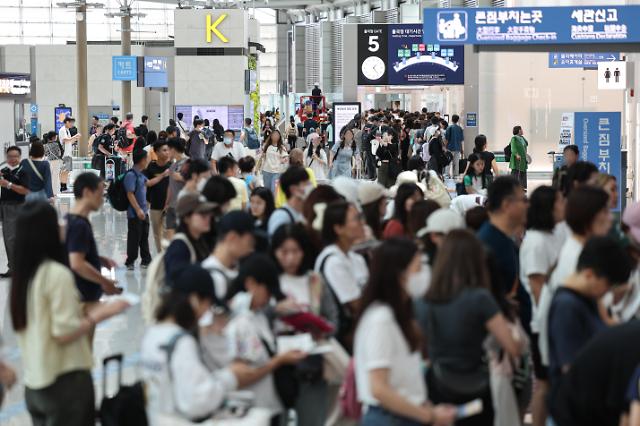 SEOUL -- Osaka, Japan's western city where the country's main seaport nests, was South Koreans' favorite getaway destination during the first half of 2023, data released by the transport ministry showed. Among the list of top 10 tourist destinations, there were four Japanese cities while the other six were located in the Southeast Asian region.

According to aviation traffic data released by the Ministry of Land, Infrastructure and Transport on August 7, the flight route between Incheon International Airport, South Korea's main gateway, and Osaka's Kansai International Airport was the most popular route with some 1,709,000 travelers in the first six months of 2023. The number of travelers to Osaka increased by about 40,000 people compared to the same period in 2019.

The second-most popular route was the airway that connects Incheon and Tokyo's Narita International Airport with about 1,637,000 travelers while some 1,410,000 traveled between Incheon and Bangkok. Other popular destinations were -- Japan's Fukuoka (1,286,000 travelers), Singapore (973,000 travelers), Viet Nam's Danang (944,000 travelers), and Taiwan's Taipei with 915,000 travelers.

The number of travelers to Japan increased in large numbers in May this year due to the low Yen currency rate compared to the South Korean won. While it costs about 900,000 won ($690) including return flight tickets, accommodation, local transport, and meals for a single-person four-day trip to Tokyo, it would cost an average of 235,000 won for a traveler every day to travel in domestic tourist spots.

Southeast Asian countries such as Viet Nam and Thailand became popular vacation destinations after the countries lifted COVID-19 regulations in 2022. Viet Nam stopped compulsory COVID-19 tests for people entering the country in May last year and Thailand lifted most of its quarantine regulations in July 2022.

However, due to strong visa regulations, China is struggling to regain its position as South Koreans' popular getaway destination. Also, the diplomatic tension that heightened after President Yoon Suk-yeol took office in May 2022 branded China as a country that is hard to access among South Koreans.

© Aju Business Daily & www.ajunews.com Copyright: All materials on this site may not be reproduced, distributed, transmitted, displayed, published or broadcast without the authorization from the Aju News Corporation.