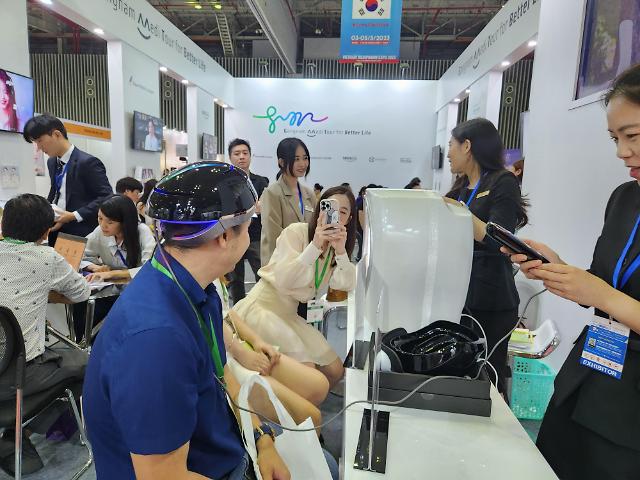 SEOUL -- At an international exhibition to promote medical products and devices in Ho Chi Minh City, Gangnam, a southern district in Seoul well known for rapper Psy's 2012 song "Gangnam Style," is promoting South Korea's medical technology to attract more Vietnamese patients. In 2022, medical tourists from Viet Nam to Gangnam was the sixth largest group with 2,806 after the United States, China, Thailand, Japan, and Mongolia.

Data released by South Korea's health ministry showed that the number of foreign patients seeking healthcare services in South Korea soared 70.1 percent year-on-year in 2022, reaching about 248,000 visitors. The patients hailed from 192 countries, with the largest proportion coming from the United States, followed by China, Japan, and Thailand. Before the COVID-19 pandemic hit South Korea, some 497,000 medical tourists visited the nation in 2019. The main reasons for tourists choosing South Korea were internal medicine treatment, plastic surgery, and skin treatment.

In 2021, Gangnam had the largest number of medical centers with 2,790 out of 18,261 facilities in Seoul. In May 2023, a total of 39 interpreters were appointed in the southern district to help foreign patients accurately communicate with doctors and nurses. The coordinators can help tourists in nine languages including Vietnamese, English, and Chinese.

Gangnam District Office is currently involved in the Viet Nam Medipharm Expo 2023 with six medical institutions based in Gangnam. During the three-day event that started on August 3, attendees can gain medical tourism-related information and explore various healthcare equipment. At the "Medical Exhibition Zone," visitors can check their skin and hair loss conditions and test eye care devices.

Entrepreneurs can discuss partnership opportunities at the "Business Zone." According to the district office, some 2,500 people received advice from its medical experts during the event, and 45 business meetings were held by 135 business-related officials. Gangnam officials will discuss cooperation methods with the operators of Viet Nam's major hospital "Vinmec."

South Korea's health ministry earlier unveiled its scheme to increase the number of foreign patients to 700,000 by 2027. The ministry will adopt different methods such as easing immigration procedures. Medical tourism convergence spots will be created so that travelers can enjoy hot springs and explore tourist attractions after receiving health care services.

Viet Nam has strived to upgrade its medical technology. In April 2022, Hanoi Medical University signed an agreement with South Korea's major telecom company KT to carry out the proof of concept (PoC) demonstration of a remote medical service platform for patients with chronic diseases. KT is also cooperating with Dong-A ST, a pharmaceutical company in South Korea, to develop a Vietnamese language-based medical information platform. Through the medical education content, Vietnamese medical workers can learn about South Korean medical techniques.

© Aju Business Daily & www.ajunews.com Copyright: All materials on this site may not be reproduced, distributed, transmitted, displayed, published or broadcast without the authorization from the Aju News Corporation.