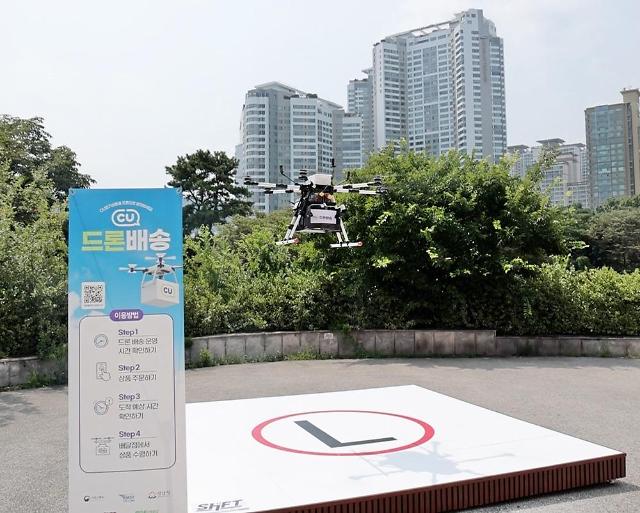 SEOUL -- The operator of South Korea's largest convenience store chain CU is currently delivering various food and medical items using a drone to two water parks in Seongnam, a southeastern satellite city of Seoul.

BGF Retail, the operator of CU, said in a statement on August 1 that the company started a drone delivery service in the Tancheon water parks. Anyone can receive products such as snacks and quasi-drugs using a QR code. The service is part of Seongnam City's project to commercialize drone delivery service.

Starting in September, the convenience store operator will also adopt the drone delivery service at a campsite in Taean County some 110 kilometers (68 miles) southwest of Seoul. Taean was selected as South Korea's regulation-free zone for drones in 2021. Drone developers can freely use the tourist town as a testbed for newly developed drones.

Although drones equipped with optical equipment were mostly used to carry out dangerous missions in the early days of commercial introduction, their role has been expanded to many other fields. In December 2021, smart farm drones that can analyze crops' temperature and humidity were showcased in Chuncheon some 75 kilometers (46.6 miles) northeast of Seoul.

© Aju Business Daily & www.ajunews.com Copyright: All materials on this site may not be reproduced, distributed, transmitted, displayed, published or broadcast without the authorization from the Aju News Corporation.