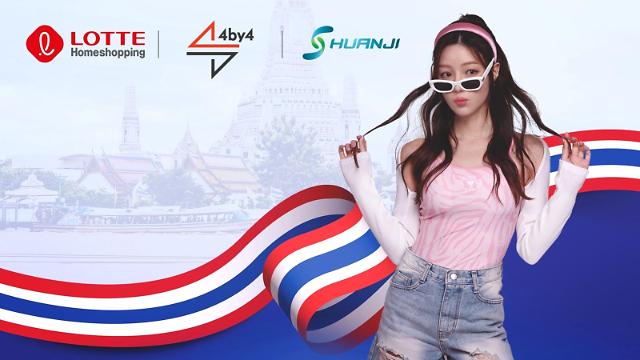 SEOUL -- Lucy, a 29-year-old virtual model created by the home shopping channel of South Korea's conglomerate Lotte, will make her make a foray into Thiland's live commerce market through Lazada, one of the leading e-commerce platforms in Southeast Asia. The virtual influencer with more than 175,000 Instagram followers will promote various fashion items in Thai targeting young consumers in the Southeast Asian country.

The virtual human was created by synthesizing a face with an image of a real person to work as a show host and a model. She has appeared in home shopping shows for apparel items designed by Vivienne Westwood, a London-based fashion brand, and Italian fashion brand Miu Miu. The 171-centimeter (67-inch)-tall digital model is a car designer who often posts pictures of herself in many casual and trendy fashion items after work.

Lazada is known as the "Amazon of Southeast Asia" with more than 100 million annual users. After it was acquired by China's shopping giant Alibaba Group in 2016, the platform became popular in six Southeast Asian countries including Singapore, Vietnam, Thailand, and the Philippines.

Lotte Homeshopping said in a statement that the company will work with 4by4, a South Korean virtual production firm, and the Thai office of Huanji, a Chinese logistics company, for Lucy to make her Thai debut through Lazada in the second half of 2023. While 4by4 will improve Lucy's appearance with technical support, Huanji's Thai office will be in charge of managing live commerce content and promotion. "Starting with live commerce shows, we will expand Lucy's activity scope into the entertainment and advertisement markets. She will become a global virtual human by expanding into various countries," Lotte Homeshopping's marketing division head Park Jae-hong said in a statement on July 26.

In September 2022, Lotte Homeshopping partnered with 4by4 to upgrade Lucy with a more human-like appearance. In October 2021, the home shopping channel operator agreed to cooperate with South Korean cloud company Megazone to expand Lucy to participate in a metaverse platform. Lotte Homeshopping will continue to work on virtual effects (VFX), which incorporates computer graphics (CG) elements, to actualize a completely autonomous virtual human.

Many artificial humans are active as show hosts and models in South Korea. In June 2023, virtual influencer Young Twenty was selected by the liquor distribution wing of South Korea's retail giant Shinsegae to promote a highball brand. In December 2021, digital human Rozy became a promotion model for GS Retail, the operator of convenience store franchise GS25.

© Aju Business Daily & www.ajunews.com Copyright: All materials on this site may not be reproduced, distributed, transmitted, displayed, published or broadcast without the authorization from the Aju News Corporation.