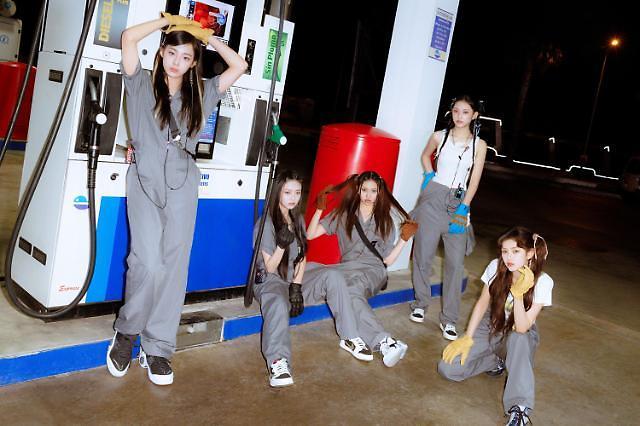 SEOUL -- K-pop super rookie band NewJeans has garnered explosive popularity on Spotify, the world's most popular music streaming service, through its new mini-album "Get Up." All six songs in the album entered the top 50 on Spotify's daily chart which ranks most streamed songs in the United States.

Six songs in the album entered the US Daily Top Song Chart on Spotify on July 24, the five-member band's agency said. "Super Shy" landed at number 10, "Cool With You" at 16, "New Jeans" at 20, "ETA" at 22, "ASAP" at 25, and "Get Up" at 32. On July 20, Super Shy, a summer-themed dance song, ranked 66th on Billboard's top 100 popular song chart.

The group is set to perform at the Lollapalooza Festival 2023, a music festival to be held in Chicago for four days starting on August 3. Lollapalooza is an annual global event that was held in various countries including the U.S., Chile, and Brazil.

NewJeans has captivated global fans through dance songs such as Attention, Ditto, and OMG. Attention was selected by Billboard as one of the top 25 K-pop songs of 2022. OMG was ranked seventh among 74 songs of the first half of 2023 by American magazine Rolling Stone. The rookie girl group was formed by ADOR under the command of Min Hee-jin, a genius idol incubator who planned concepts for SM Entertainment groups such as Girls' Generation, f(x), and Red Velvet.

© Aju Business Daily & www.ajunews.com Copyright: All materials on this site may not be reproduced, distributed, transmitted, displayed, published or broadcast without the authorization from the Aju News Corporation.