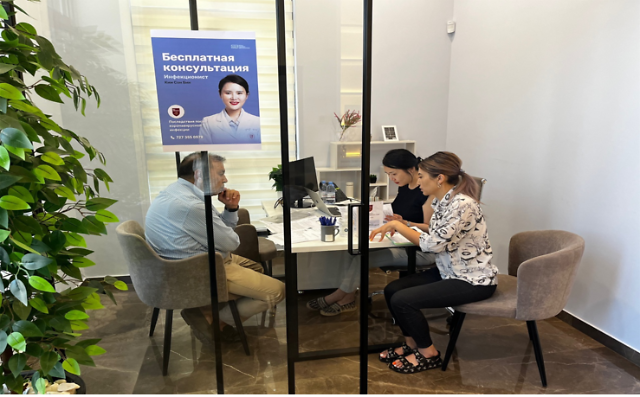 SEOUL -- Seoul has promoted South Korea's medical technology in Kazakhstan to attract more medical tourists through a two-day healthcare event in Almaty, Kazakhstan's heart of trade. South Korean medical experts participated in the event to provide healthcare tips for local patients and promote their medical know-how.

According to data released by Seoul, the number of Kazakhstani medical tourists in the capital city skyrocketed to 4,019 in 2022 from 1,546 in 2021. As of 2021, 2,790 out of 18,261 medical facilities in Seoul were located in Gangnam, a southern district in Seoul well known for rapper Psy's 2012 song "Gangnam Style." Kazakhstani patients can communicate with doctors as the southern district provides interpretation services for medical tourists in nine languages including Russian.

Seoul said in a statement that the city held a medical event in Almaty. South Korean doctors from four hospitals in the capital city have provided health-related advice for 77 patients in Kazakhstan's southeastern city. During the event, Korea University Anam Hospital in northern Seoul signed an agreement with the Kazakh Institute of Oncology and Radiology, a state-run group specializing in cancer treatment, to improve the medical tourism business.

"We will upgrade local marketing in major medical tourism markets such as Central Asia and the Middle East to attract more foreign medical tourists," Seoul's tourism and sports bureau head Kim Young-hwan said in a statement on July 17. The capital city said the event was also attended by South Korean tourism companies to promote tourism products.

Government data showed that about 248,000 foreign patients visited South Korea to receive medical treatments in 2022, up 70.1 percent from a year ago. In 2022, patients from 192 countries visited South Korea. Americans accounted for the largest portion, followed by Chinese, Japanese, and Thai. Tourists visited South Korea mainly to receive internal medicine treatment, plastic surgery, and skin treatment.

The Ministry of Health and Welfare unveiled its plan in May 2023 to attract 700,000 foreign patients by 2027. The number of designated agencies that provide electronic visas would be increased to 50 by 2023 from 27 in 2022. Unlike the conventional system in which only the immediate family can take care of patients, foreign patients' siblings will be allowed to take care of tourists hospitalized in South Korea. Under the new system, caregivers and guardians do not need to submit a document that proves their financial capacity.

© Aju Business Daily & www.ajunews.com Copyright: All materials on this site may not be reproduced, distributed, transmitted, displayed, published or broadcast without the authorization from the Aju News Corporation.