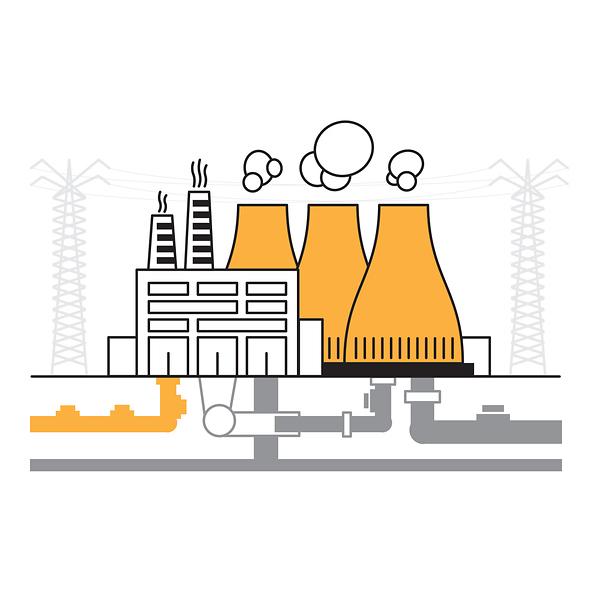 SEOUL -- South Korea has set up an alliance of administrative organizations and private companies to promote the development and distribution of small modular reactors that are smaller and safer than conventional nuclear reactors.

Small modular reactors (SMRs) can address the limitations of light-water reactors using low-enriched uranium that cost a lot to replace nuclear fuel and require a vast emergency evacuation zone, nonproliferation, and waste management. Small reactors designed with modular technology allow for less on-site construction, increased containment efficiency, and enhanced safety.

The Ministry of Trade, Industry and Energy said that a launching event for the SMR alliance was held in central Seoul on July 4. 11 public administrative bodies including the energy ministry and state nuclear power company Korea Hydro & Nuclear Power, and 31 companies including Samsung C&T Corporation, GS Energy, GS E&C, and Doosan Enerbility have joined the alliance, according to the ministry.

"The administrative sector and private sector will have to join forces to be prepared for the changes which SMR would bring," energy minister Lee Chang-yang said during the launching event. Lee promised the alliance that the government will not hesitate to provide support for the nurturing of SMR-related industries.

During the last few years, the South Korean government and major companies have been trying to take a head start in the development and commercialization of more efficient and safer small reactors. In May 2022, Samsung C&T, a Samsung Group unit involved in trade, investment and construction, agreed with NuScale Power, a small modular reactor (SMR) company in the United States, to cooperate as a strategic partner in SMR projects in Romania and other East European countries.

South Korea's SK Group tied up with TerraPower, an American nuclear reactor design and development engineering company, in May 2022 for comprehensive business cooperation in the development and commercialization of next-generation mall modular reactor technology. Hyundai Engineering & Construction, a major builder affiliated with South Korea's Hyundai auto group, signed an agreement with its American partner Holtec in October 2022 to participate in the detailed design necessary for the installation of Holtec's SMR-160, a pressurized water reactor with a capacity of 160-megawatt electric that does not rely on any pumps or motors to remove heat from the nuclear fuel.

© Aju Business Daily & www.ajunews.com Copyright: All materials on this site may not be reproduced, distributed, transmitted, displayed, published or broadcast without the authorization from the Aju News Corporation.