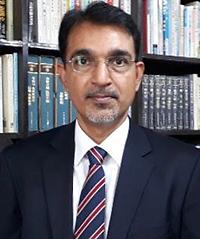 [This article was contributed by Sandip Kumar Mishra, an associate professor at the Jawaharlal Nehru University, New Delhi, India.

NEW DELHI -- South Korean President Yoon Suk-yeol triggered an unnecessary controversy over his remarks January 15 when he was on a four-day state visit to the United Arab Emirates (UAE). He told Korean troops of the Akh unit stationed there that the UAE is a "brother country." He added "the security of our brother nation is our security," and that the UAE's "enemy and biggest threat is Iran."

By connecting and stretching these points, one may even conclude that as per Yoon, Iran is a security threat or enemy to South Korea. This is neither true, nor did he intend it in his speech. It was simply an unintentional mistake of Yoon.

His diplomatic gaffes led to Iran's Deputy Foreign Minister for Legal and International Affairs Reza Najafi registering "strong protest" over Yoon's "meddlesome comments" by summoning South Korean Ambassador Yun Kang-hyeon on January 18 and in response, South Korean First Vice Foreign Minister Cho Hyun-dong on January 19 called the Iranian Ambassador Saeed Badamchi Shabestari to "once again" explain South Korea's position.

South Korea has tried through multiple means to communicate that Yoon's statement was basically meant to encourage around 150 South Korean troops stationed in the UAE for the combined special forces training and joint military activities. South Korea has deployed its troops in the UAE since 2011 in accordance with a deal in which the country was supposed to build a nuclear power plant in the UAE. Seoul has insisted that his remarks must not be "over-interpreted."

Yoon has been making such mistakes quite often. His trip to attend Queen Elizabeth II's funeral in London last October also touched off controversy over his failure to pay his respects to the late British monarch while she was lying in state. The presidential office cited "traffic jam" as the reason for the failure. However, the incident was considered to be another diplomatic gaffe by Yoon.

Furthermore, in another gaffe, Yoon was caught allegedly using foul language after his chat with U.S. President Joe Biden on the sidelines of the U.N. General Assembly on September 21, 2022. There are several other incidents in which either he or his wife allegedly had inappropriate statements or behaviors.

Here it is important to note that such mistakes are possible, but their frequency is too high in the case of Yoon. Furthermore, in the age of social media and digital transformation, they are caught easily, become known and circulated across the globe very soon. Thus, such mistakes must be avoided.

There could be various explanations for these mistakes. First, Yoon had been a public prosecutor throughout his life and does not understand the niceties of politics and diplomacy. Second, he has been influenced either by his wife or a shaman teacher who are not well versed in the formal etiquettes of politics and diplomacy.

Third, he is reckless or uncomfortable in the public glare. Four, it could also be because he is surrounded by less-experienced people or people who are largely "yes men" and they are unable to prepare him well for these public appearances and statements.

A few or all of these points may be true but the biggest reason for Yoon's carelessness appears to be his belief in the conservative vote base in South Korea which is going to support him irrespective of these gaffes. Actually, the election of Yoon to the highest office of the country had hardly anything to do with his ability as a leader.

He was selected to be the presidential candidate of the conservative People Power Party (PPP), defeating many experienced leaders because he confronted the previous Moon Jae-in administration very strongly.

He was preferred by the conservatives over other experienced leaders of the party because he was considered to be a trustworthy leader who could take "revenge" by investigating and prosecuting key figures of the Moon administration including former President Moon. Yoon is aware that if he is able to deliver this, all his mistakes and gaffes are going to be inconsequential for his administration and his understanding may not be incorrect.

However, it must be conveyed to him that the South Korean leadership who represents an OECD country and global soft power cannot be so careless. South Korea has been going through a phase in which tectonic changes in global political and economic domains are taking place.

And in this delicate time, the country needs to constantly readjust its positions on various issues through carefully vetting existing options and thinking about the upcoming options. Repeated diplomatic gaffes and mistakes may be forgiven in domestic politics but generally, it is quite different in international politics, and Yoon has to realize this fact sooner than later.


© Aju Business Daily & www.ajunews.com Copyright: All materials on this site may not be reproduced, distributed, transmitted, displayed, published or broadcast without the authorization from the Aju News Corporation.