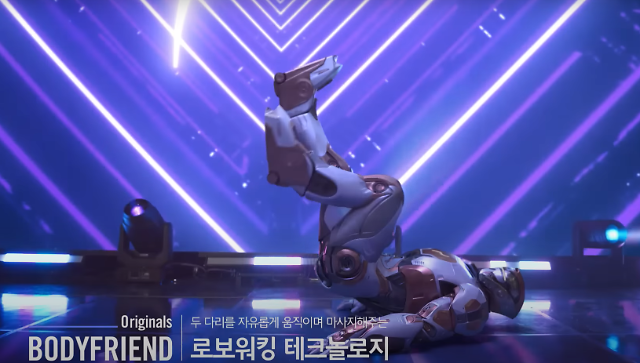 SEOUL -- A conventional massage chair mounted with a simple pressing and kneading function has evolved into a sophisticated medical device for rehabilitation. The robot-like massage chair created by South Korean medical experts enables both legs to move separately and stimulates various muscles so that patients can quickly recover from muscle knots after having an operation.

"Phantom Rovo, "a new chair developed by Bodyfriend, a Seoul-based massage chair and healthcare company, has a robot-like appearance that can be worn like Iron Man's robotic body suit. Because it allows individual leg movements, users can massage their left and right leg separately while sitting on the massage chair.

"You can receive a massage without getting bored through movements such as yoga and pilates that bring motifs and movements like riding a cycle," Bodyfriend's vice president Ji Sung-Kyu told reporters at a press conference on July 6.

Users can effectively stretch their core and lower body muscles, which were previously difficult to stimulate, such as the iliopsoas, quadriceps and hamstrings. Phantom Rovo has a sensor that can measure the user's body to provide massage at optimum strength. A heating device provides full body heat.

"Starting with Phantom Rovo, we will accelerate the evolution beyond massage chairs to medical devices," Ji said, adding that the robot-like chair will become a symbol for opening a digital healthcare era. Ji hopes that the new product will grow into a platform that measures biometric information, collects data through artificial intelligence, and connects it to personalized health services.

The innovative massage chair is the result of joint work by researchers and medical experts. "It is a product that properly combines exercise and massage functions," said Bodyfriend's medical R&D center head Cho Soo-hyun. "We designed it to improve flexibility and help strengthen muscles by loosening pelvic muscles with movements similar to yoga and cycling."

The next product to be rolled out by Bodyfriend in the second half of 2022 will be a massage chair that can analyze body composition, blood pressure, electrocardiogram, and heart rate. It would continuously record data to detect physical abnormalities.

South Korea's massage chair market has seen rapid growth from 350 billion won ($269.5 million) in 2015 to about one trillion won in 2021. Massage chairs are favored by old people suffering from muscle cramps. The market is projected to grow further as government data showed that the number of old people aged 65 or more would increase to take up more than 20 percent of the whole population by 2025.

Various companies are incorporating AI to provide upgraded healthcare services. In June 2022, Bokjung Scale, a domestic medical company known for a massage chair called "Cozyma," partnered with Ajou University's software convergence department to train AI experts and exchange technologies.

© Aju Business Daily & www.ajunews.com Copyright: All materials on this site may not be reproduced, distributed, transmitted, displayed, published or broadcast without the authorization from the Aju News Corporation.