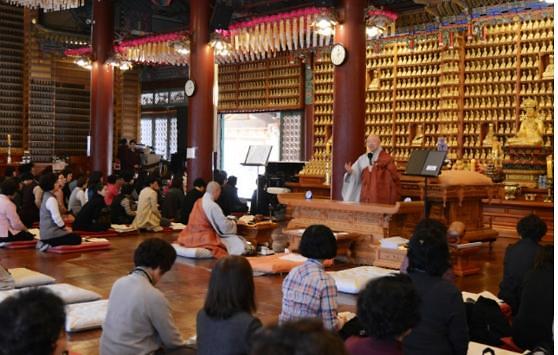 Bongeunsa, a Buddhist temple in South Korea's most affluent area, earned more than 18 million US dollars in total income last year through donations, prayer services, and other religious activities, data showed Monday.

The temple in Seoul's southern Gangnam district posted an income of 21 billion won (18.3 million US dollars), according to data released by the Jogye Order of Korean Buddhism on its website.

Its income is higher than 20 billion won earned by the sect's head office, Jogyesa, in central Seoul.

Gangnam has gained a global fame due to South Korean rapper Psy's "Gangnam Style" music video, which went viral globally after its release in 2012, has been viewed more than 2.5 billion times. "Gangnam Style" is still the most viewed video on YouTube.

Jogye is South Korea's largest Buddhist sect with thousands of temples. Buddhism is South Korea's largest religion with followers accounting for more than 20 percent of the population.

Aju News Lim Chang-won = cwlim34@ajunews.com




© Aju Business Daily & www.ajunews.com Copyright: All materials on this site may not be reproduced, distributed, transmitted, displayed, published or broadcast without the authorization from the Aju News Corporation.