Educational world's attention has been focused on Chonbuk National University since the university has been achieving the remarkable change and making progress in research and education, employment, globalization and etc.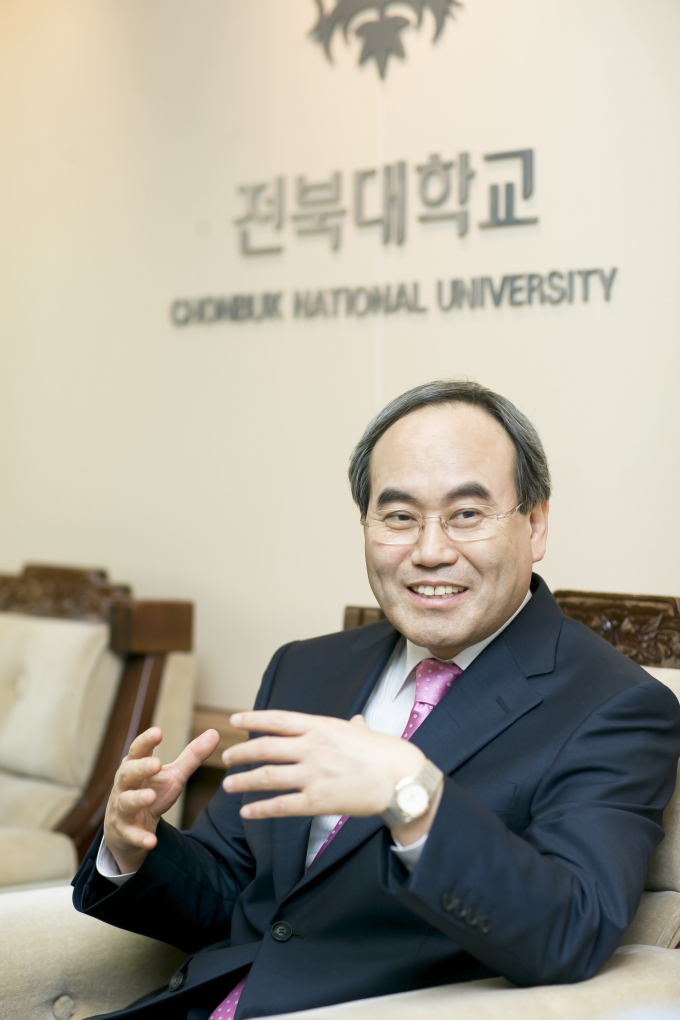 President Suh Geo-suk
at Chonbuk National University
The university has been building up education/research, cooperation with industries and the international sector, becoming more competitive. QS, UK global college rating agency, named Chonbuk as the top 10 universities nationwide for 2 consecutive years, which means that the university raised the name recognition the most externally in recent years.
Ministry of Education, Science and Technology has picked Chonbuk as one of the colleges for both "ACE (Advancement of College Education)" and "University Education Capacity Enhancement Project", showing the college doing the best at teaching students at classes.
The changes occurred in late 2006 when president Suh took the office and has been building on the past accomplishment of the university and striving for the vision that he saw for the school. He successfully took the seat for the third consecutive terms in 2010. Following are interview with President Suh.
-What achievement has been to Chonbuk National University?
"Chonbuk National University has been developing its strength in various specialties such as research/ education, employment, globalization and became a new competitive college. Meanwhile, the university had increasing attentions from rating agencies such as the UK Global College rating system, QS, and the Joong Ang Daily News. The university achieved a ranking of being top 10 nationally, and in the top 90 for the entire Asian Pacific region for 2 consecutive years. The university has also had student outperforming their peers internationally."
- Specific measures for enhancing competitiveness of research?
"Chonbuk University also took measures in order to increase competitiveness, for both the administration and research staff since 2007. The changes made included doubling standards needed for promotion for faculty, with only one possible reappointment. Professors with tenure were stipulated to write at least one academic article in a top 3 academic journal or find research financial support to conduct research in a proper environment. The results speak for themselves and as a result SCI papers from the university have increased nationwide in 2009, with 100 billion won in new grants to the college to expand performance. Projects in renewable energy and other leading national projects for key areas of research have been expanded as a research-focused university."
- Give us some big national projects your college took.
"First of all, the project for making the world-class research institution, the second, Samsung has recently announced its plan to invest in Saemangeum as a global economic leader in the field of renewable energy; it will be the only plant operating factories in domestic universities. And the 'light Diode (LED) - Agricultural Biotechnology convergence technologies project. In addition, Asia's largest Disease Research Center for Zoonoses, the Supporting Center for Fusion Next Generation of Agricultural Technology and The Center for High-Temperature Plasma Applications."
- Your inauguration focused on "increasing education competitiveness."
"Chonbuk University has already reached the level as one of the top schools in the country. Education has become more competitive with the rising competitiveness of the job market, in both education and research. So in order to better educate students we have a 'Learning Development Center' focusing on better education and learning creatively. "
- What's your future education goal?
"The goal of our institute is strengthening undergraduate education and specialization, and building a competitive model of education. The basic skill for courses for 2 years builds upon the 2 by 2 model where four semesters go to interdisciplinary fields, and four semesters focus on basic competencies for the students. After student basic skills are tested and evaluated, every student can catch up to their core competency skills, and strengthen major and career paths"
- Tell us about Chonbuk University's globalization.
"Our college is cruising smoothly along the way for the world top 100 as it has been ranked the 14th among all South Korea's universities, the 92th in Asia area by UK QS's Asia University Evaluation. Particularly, Chonbuk received the highest rating in the globalization criteria, which shows each college' competitiveness level and our college's leaping into a global university. On foreign exchange student area, Chonbuk raked the 34th in the number of students going abroad for study and the 58th for foreign students coming to our college for their studies. Those figure shows Chonbuk University has the highest level of internationalization and research and education,"
- What's example for global competitiveness program
"To train students as global leaders, we have been operating the 'global leader project' for four years where more than 1,000 students can study at sisterhood foreign college and earn their credits as well as learning foreign languages. We have international dual-degree programs with 14 colleges in 5 countries including the United States and France and so far, academic exchange agreements with 223 universities and institutions in 35 countries by which more than 200 Students every year are sent abroad. And also, in order to give English hands-on experience for students, 'global English projects' has been giving basic English conversation to improve their English language skills"
- Besides, you have another plan for making the most Korea-style college campus.
"Chonbuk National University is a flagship college in Jeollabuk-do and needs to focus on Korean culture and history study area. For this purpose, we will remodel the front college gate door into traditional style and plans to build Traditional Guest House, Korean-style Conference room and garden in the long term. We also have a required class such as a 'traditional music' from which any student can sing a tune of 'pansory', Korean traditional music"
(아주경제 송지영 기자)